Are you prepared for the best holiday season of the year?
Have no fear! Or, do have fear! It's Halloween! The North of Boston Living Group has collected some of the best Halloween centric events along the North Shore for you to attend! Also Featured here are DIY projects to get you into the proper spooky mindset for the month! Check back on this space in the coming weeks as we'll be updating this list when local Trick-R-Treating schedules are announced
For information about Trick 'R' Treating Schedules in the North Shore: Trick 'R' Treating will take place on Tuesday October 31st in towns Such as Amesbury, Andover, Boston, Gloucester, North Andover, & Newburyport. Haverhill families will be Trick 'R' Treating on Saturday October 28th, and additionally Downtown Trick 'R' Treating for families with younger children is going to be on Friday October 27th in Newburyport. We look forward to seeing you and your families haunting about 🎃
Upcoming Events:
Full Body Cast's 2017 Halloween Rocky Horror Picture Show
Where: Boston
When: October 27th, 28th, & 31st
Are you ready to do the Time Warp, again!?!
Full Body Cast in Boston will be putting on three performances of Rocky Horror Picture Show to round off the month of October! This Cult classic is regularly put on throughout the year by acting troupes across the country, for those who have never been before this film is played on the big screen and across the the theatre actors will perform the entire movie at the same time. It's a 3-D experience taken to the next level! Many times I've gone to these showings and actors will hand out props to the audience, there's squirt guns to make it rain in the theatre when Brad & Janet first arrive at Dr. Frank - N - Furter's castle, confetti to be thrown when a fan favorite character comes on screen or to celebrate one of the film's many iconic speeches! For first time goers there's a an official Audience Participation guide on the Rocky Horror Picture Show website.
Hocus Pocus Villains Halloween Ball 2017 in Worcester, Mass
Where: Worcester
When: October 28th 7 - 11 PM
Where there's a big creepy castle, there's a wicked rager hosted by the Sanderson Sisters, it's just science! This is an 18+ event and tickets are available online. There'll be costume contests with cash prizes, lots of dancing, a cash bar, Jack-O-Lantern displays, and much more, fearful pranks ensue!
Events taking place on Halloween:
Halloween Yoga Hosted by Society of Arts + Acts in Boston, Mass
Where: Boston
When: October 31st 8 - 9 PM
Ah how I love the crisp cool air in the mornings during the Fall, it's the perfect time to connect with yourself! Instructor Michaela Deck will be leading a free class in the morning, so all of you ghouls can start Halloween off with your chakras perfectly aligned and ready for a day of trick-r-treating and candy consumption. The hosts mention that costumes are welcome but not required, dress comfortably! This event is entirely free, but guests are welcome to leave tips for the instructor :)
Family Friendly Halloween Celebration at The Mandarin Oriental Hotel in Boston, Mass
Where: Boston
When: October 31st 3 - 5 PM
There'll be fresh toasted homemade pumpkin donuts and hot apple cider, need I say more? I will anyways so you know how to prep for this event! For families with children 12 and under, the Mandarin's lobby is being transformed from a hotel to a Halloween Haunted Hullabaloo for your kids to safely trick-r-treat in doors!
The Nightmare Before Christmas: A Symphony by the Boston Pops in Boston, Mass
Where: Boston
When: October 31st 8 - 10 PM
And now for the crown jewel of Halloween Cinema: Tim Burton's The Nightmare Before Christmas will be shown at Symphony Hall in Boston, accompanied by a live performance by the Boston Pop's symphony! Jack and Sally and the rest of the HalloweenTown crew will haunt the silver screen again this Halloween, you'll see This is Halloween & Sally's Song (my personal favorite) performed live!
Past Events:
8Bit Massacre - Hip Hop Horror Party at the Arcade Bar in Salem, Mass
Where: BitBar
When: October 7th & 8th
Ready to return to Camp Crystal Lake, camp counselors? To celebrate the release of Friday the 13th: The Game! BitBar (a family favorite) in Salem is hosting two nights of multi-player murder madness. What better way to break in the Halloween season than with your best buds fending off a night of terror from the horror movie legend Jason Voorhees? (And yes I know I must include this in every post featuring Bitbar, but seriously, try the Elk Burger. It's on a donut roll!)
Haunted Biz Baz Street Fair in Salem, Mass
Where: Salem
When: October 7th & 8th
Every year thousands of Salem's ghosts & ghouls come out to haunt the historic Essex Street plaza for two days of shopping, sightseeing, seances, and more! Salem's MANY monster museums run round the clock tours of the city's most iconic tourist spots, and Salem's absolutely fantastic local food vendors will be cooking up a storm, for everyone to enjoy! It's never the wrong time to dress up when in Salem, so if you're prepping to come to the festival in costume be our guest! My family and I look forward to this event every year and we're going to let you in on a little secret of ours: parking can be absolutely atrocious during this season, we recommend you park in a nearby town on the Newbury/Rockport commuter rail line, and then take the T into Salem!
Looking to take your Halloween décor to the next level?:
HGTV posted this spooktacular pumpkin decorating project put together by Marion Parsons
All you'll need to apply this effortlessly glamorous transformation your porch front decorations is school glue and black glitter! You and your child can design your own stencils to embellish your pumpkin with, to minimize the mess from the glitter be sure to put a sheet of newspaper down under your work station! Fun fact: last year I decided to paint my pumpkin with purple acrylic paint and when it dried it sealed the pumpkin and it refrained from rotting until late february the next year!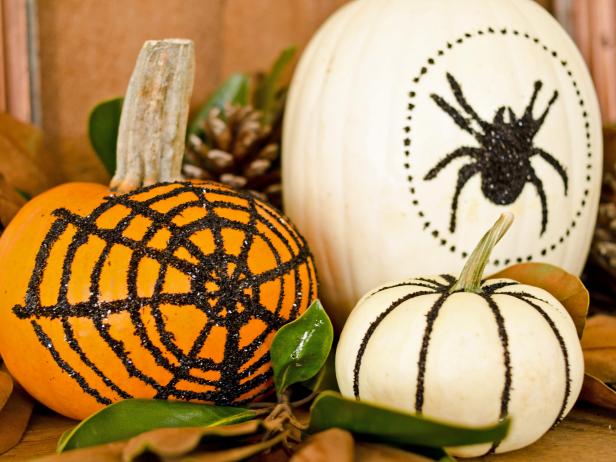 Lanterns in the Village 2017 in Salem, Mass
Where: Salem
When: October 7th - 8th
This is a family-friendly pumpkin patch party in the Pioneer Village! Pioneer Village is calling for guests to donate decorated pumpkins to be lit for a nighttime stroll through the grounds. Tickets are available for $7, children under the age of 2 get in free! In addition to being able to tour the Village, families can also gather around for a reading of spooky stories!
Salem Zombie Walk 2017 in Salem, Mass
Where: Salem
When: October 7th 3:30 - 5:30 PM
They're coming for you Barbara! Mark your calendars: the undead will roam the streets of Salem on this crisp Autumn afternoon! Zombies of all ages are welcome to attend, and for the undead on a time crunch there will be professional face painters and makeup artists at the meeting point who can help you pull off a fully zombified look!
You'll be PETRIFIED By this DIY Medusa Inspired Tutorial:
In Cher's Closet on Wordpress.com came up with this epic Grecian Gorgon get-up
Medusa is one of my favorite folklore figures from history, and her super monster status makes her a MUST DO Halloween costume! You can achieve a very expensive look on a low budget with this tutorial!
Halloween Crypt Tours at King's Chapel in Boston, Mass
Where: Boston
When: October 13th - 31st
Through the month of October King's Chapel in Boston is offering guided tours of 21 underground tombs! Guests will learn about ancient burial customs and the history of the tomb's permanent tenants. Tours run at 5:30 and 6:15 PM and tickets are available online for $10 a person. Don't get lost down there!
Fall Pumpkin Float at the Frog Pond in Boston, Mass
Where: Boston
When: October 20th 5 - 8 PM
Boston's Parks and Recreation department have set up an awesome evening of Halloween festivities for the entire family to enjoy! There'll be live music, magician acts, and mazes! Children can decorate luminary bags that will be lit up and shown along the water. Guests are able to judge decorated pumpkins designed by local organizations, and are also encouraged to bring their own 8 inch (or smaller) carved pumpkins. The night will culminate in a mass lighting of Jack-O-Lanterns floated across the beautiful Frog pond!
Maudslay is Haunted 2017! In Newburyport, Mass
Where: Newburyport
When: October 21st & 22nd 2 - 4 PM
Into the woods we go! The folks at Theater in The Open are presenting a one hour show of spooky vignettes and scenarios for your family to watch unfold! Tickets are available online for $7, children under the age of 3 get in free! Maudslay Park is beautiful to explore in the spring, but are you ready to face the haunted woods when these ghouls are roaming about?
Want to Attend the Pumpkin Float but Unsure how to Embellish your Jack-O-Lantern?:
Hannah Slaughter on DIYNetwork.com posted this guide for stunning pumpkin printmaking!
What you'll need to complete this project is: White paint, printed black & white images, and craft glue specifically used for collage, I suggest picking up a bottle of Mod Podge available at Michaels. If you want your work to withstand the seasons Hannah suggests going out and picking up a foam pumpkin, your work will be preserved forever!